Potty training can be a tough time for the entire family, frustrating both parents and kids. Planning your life and activities around a potty isn't always fun, but we hope our couple of tips will make the ride a little smoother.

1. Avoid potty training when a big change or life event has happened.
A "big change" can be anything from the birth of a new sibling, switching from a crib to a bed, or any other life event that could affect your child. They might be distracted or overwhelmed with the other changes so much that potty training will be moved to the end of the priority list.
2. Ignore amazing tales of tried-and-true results
Well-meaning as friends and family are, not everyone is the same. Just because it worked miracles for them doesn't mean that it will work for you, too. And for those over-achieving pals with overnight success, best to take their story with a grain of salt. Smile, nod, and give your child a little time to grow up before you get started. Let your little guy or gal set the pace.
3. If your child is going through that wonderful stage of saying "NO" to everything, it's best to wait.
They will inevitably end up saying no to potty training, and this will end in frustration for you and your child. Once they seem to have moved on from this stage, go ahead and start.
4. Get them involved!
Casually ask your child to let you know when they need a new diaper. If the supplies are where they can reach, ask them to bring you the diapering supplies when they need a change. 2-3 year-olds love to help and, in helping, your child will become increasingly aware of his/her own habits.
4. Talk potty all the time.
You'll have years of potty talk ahead, might as well start now! Mention to friends how proud you are of your little guy or gal while they are within earshot. Oftentimes, your child will catch on and have a pride incentive to do better with potty training.
5. Invest in a potty chair or toilet seat ring that they can call their own.
The advantage of a potty chair is that your little one can use the bathroom at the same time as you while he/she sits on their chair beside you. This will give them an idea of what it's like, and how cool it is because mommy and daddy do it, too!
6. Start with bath time
When you get your little one undressed for bathtime, encourage them to sit on their potty chair or potty seat. The running water can get things going in a hurry! If your tot manages to pee in the potty, give them a sincere "Good job," but don't go over the top with praise. If nothing happens, that's okay too. And, if they happen to pee in the tub, have a quick conversation about where a better place to pee might be. When potty training toddlers, it is important to involve them in the process and let them come up with their own solutions to problems.
7. It's not a competition!
Do not be tempted to get into "potty wars" with your friends who have children close in age to yours. It's silly if you stop and think what you're competing about. On the other hand, take advantage of more experienced parents. If you have a friend with a 5- or 6-year-old kid, talk to them about their experiences.
8. Read books about potty training.
There is a multitude of books out there, and most popular cartoon characters have their own books about potty training. You can also use potty training apps, games, or watch a DVD about potty training with silly songs. Our buddies at Sesame Street certainly have an arrangement of books that can possibly help your child with understanding potty time.
9. Use a reward chart to help them feel enthusiastic about going to the potty.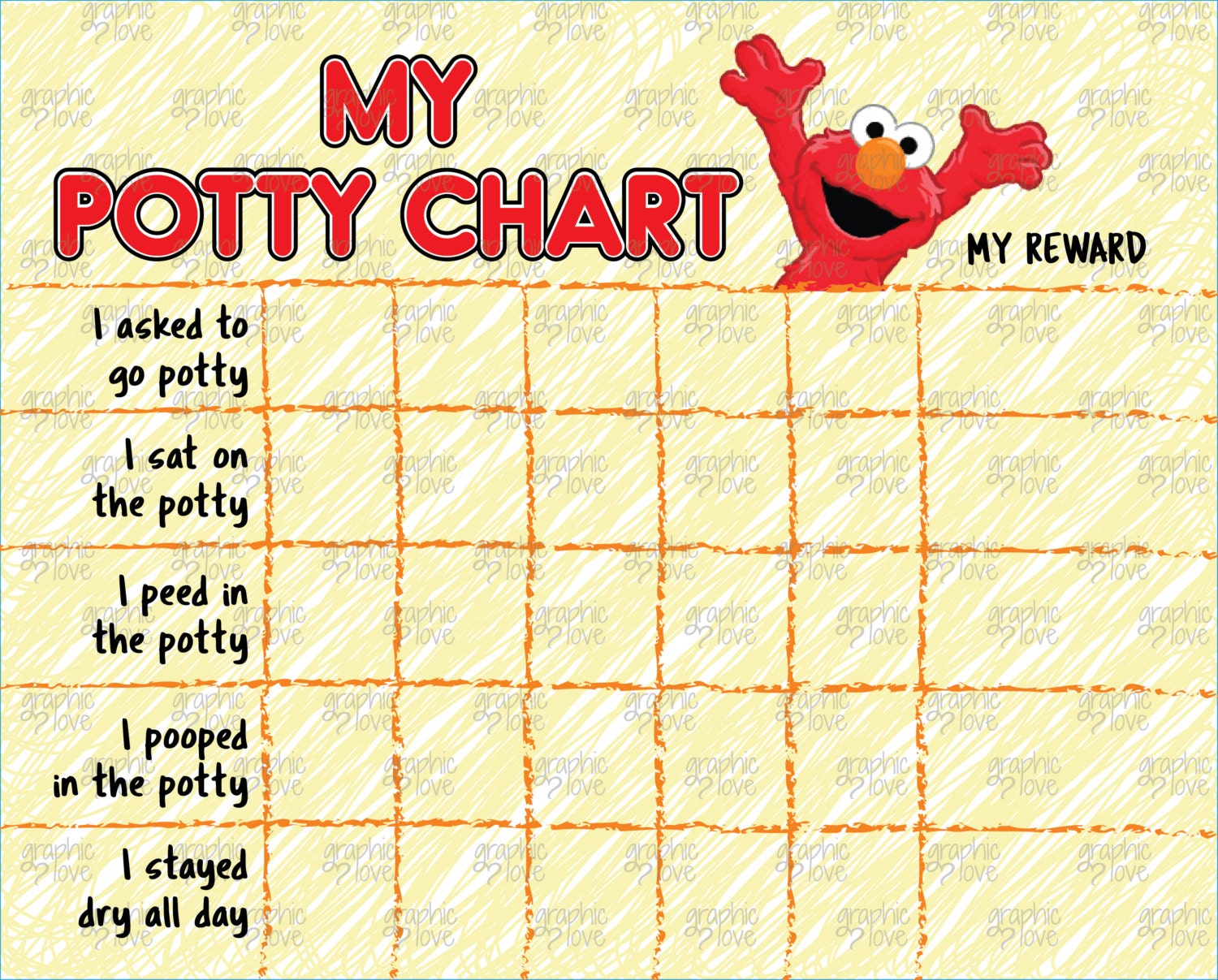 Make your own chart or buy one from a children's store. You can use fun stickers with your child's favorite characters and every time they successfully use the potty, they'll get a sticker. After reaching a certain goal, they can be rewarded with a small gift!
11. Allow your tot to choose underwear all on their own.
Take a trip to the store and let your child choose different underpants that have favorite characters or colors. Tell them this is what will be replacing diapers, and they need to take care of them. Of course, if a mess happens (and it will) be sure they understand it is no big deal. There's always next time to get it right.
12. Out and About With the New Potty User
Once your tot is using the potty on a regular basis, you will have to reconsider how you navigate the world. Try to always know where the nearest bathroom is when you are out. Little kids LOVE to visit public bathrooms (we'll never know why…). Build time into errands for this reason. Travel with at least one change of clothes for both of you – accidents never happen at convenient times or at convenient places! If you are going on a longer trip, pack the potty chair! Line it with a kitchen trash bag and you're ready to roll.
The road of potty training could be a quick trip or a long journey. It could have winding roads with treacherous downpours or a sunny breeze that takes up a tiny chapter in your tot's life. No one child is the same and that goes for potty training as well. No matter how difficult it could be for you and baby, just remember, they won't go to college in diapers!
Sesame Street Elmo Hooray 3-in-1 Potty
Helping big kids tackle their toilet training adventure while having fun! The potty includes a pretend flush handle with fun sounds and Elmo's encouraging voice to make potty time enjoyable, and the toilet trainer and step stool makes your child's transition to an adult toilet even easier.
Kolcraft My Mini 2-in-1 Potty Trainer
The Kolcraft My Mini 2-in-1 Potty Trainer features a potty chair and a toilet trainer to make the transition to the adult toilet even easier. The pretend flush handle moves up and down and plays flush sounds to add to the fun.